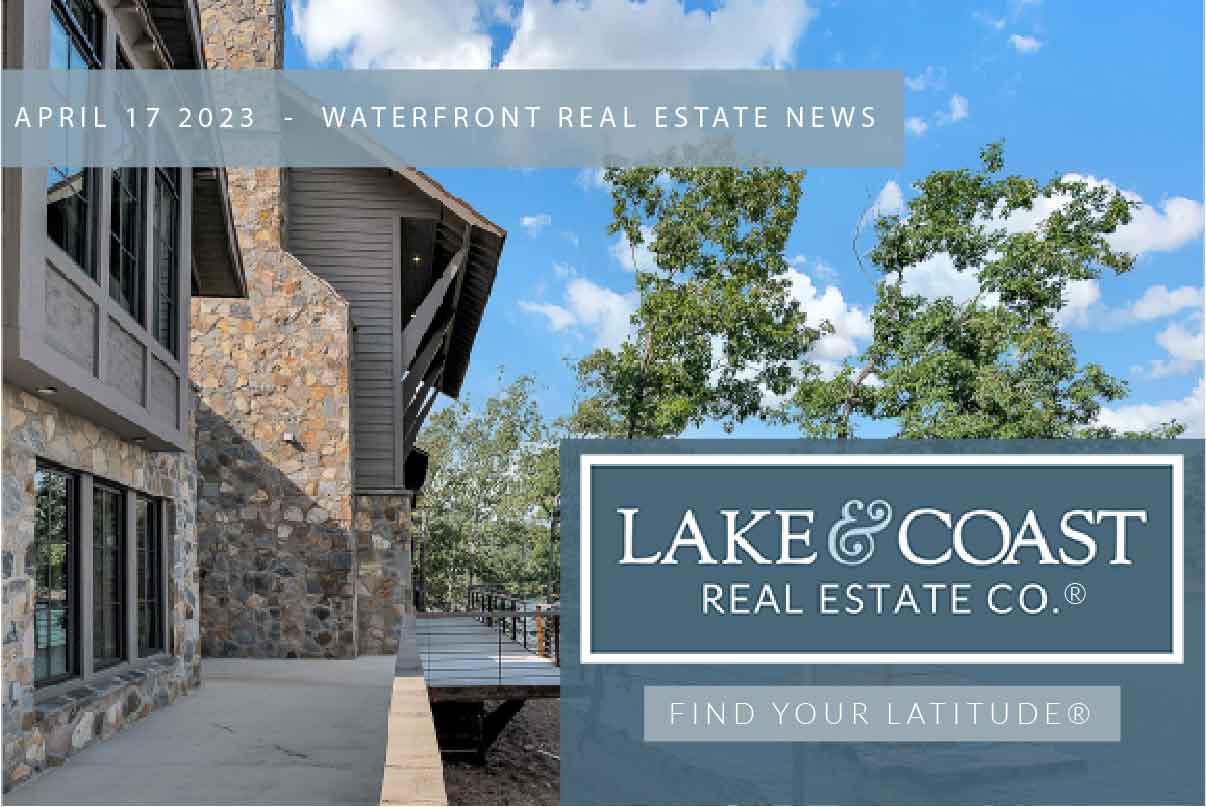 Alabama waterfront real estate market: A look at the forecast for the rest of 2023
By Trent A Taylor of Lake & Coast Real Estate Co.
April 26, 2023

---
Despite an ongoing climate of economic uncertainty nationwide, we anticipate Alabama's attractive coastal and lakefront real estate markets to continue seeing a steady pace of growth in 2023, while buyers may find more advantages as interest rates inch upwards in the Fed's attempt to curb inflation.
To give an abbreviation of the current Alabama waterfront real estate market and where we predict it is heading, we'll take a look at two areas in which we specialize in selling real estate: Lewis Smith Lake and Orange Beach. These two markets are the most popular and active in the state as far as sales, giving us valuable insight into both the lake and beachfront markets that are increasingly drawing attention to Alabama from potential buyers far and wide.

At Lewis Smith Lake, one of the premier waterfront real estate markets in Alabama, we still have low inventory contrasting with pent-up demand. But with increasing interest rates, we are seeing our Smith Lake sales volume slow down compared to the same time last year. We are also seeing our inventory tick upwards compared to housing inventory around this time in 2022.
One of the main factors affecting inventory numbers is the large number of "proposed construction homes" that are showing in our Multiple Listing Service (MLS). But if we remove those from our inventory numbers, it drops our total current supply of homes down by 1.5 months. If the Fed continues raising interest rates throughout 2023 to combat inflation, sales will likely continue to stay lower than last year.
Another factor that will affect Smith Lake waterfront home sales in 2023 is the slowing trend in 1031 exchanges, which fueled a large number of sales in the $1 million-plus range in 2021 and 2022. If new homes on the market continue to increase at the current rate, we should slide into a buyer's market by early to mid-summer of this year.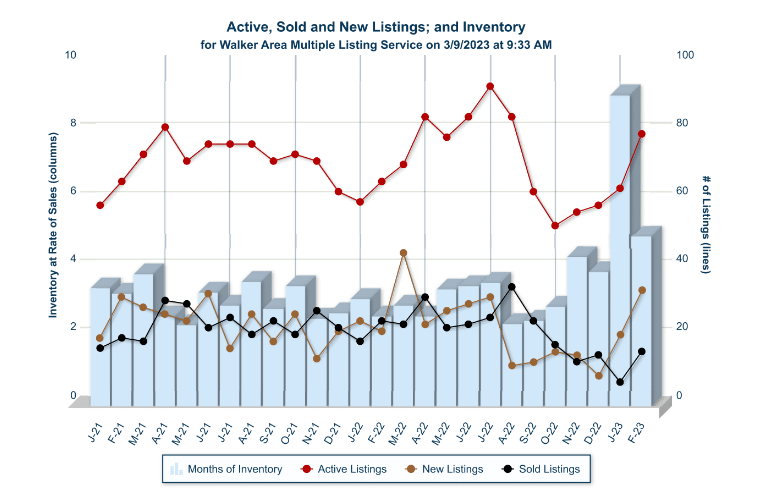 We don't expect any significant price reductions in the waterfront lake market, but we do see prices flat-lining and sales returning to a normal pre-pandemic rate, which will open up opportunities to a wider range of buyers.
Located on one of the state's cleanest and clearest bodies of water, surrounded by pristine nature (see Bankhead National Forest), yet within easy driving distance from some of Alabama's most booming metro areas, Smith Lake homes and properties are particularly well positioned to grow in desirability over time. Furthermore, ongoing economic growth in the North Alabama region, particularly in Huntsville and its surrounding areas, is likely to drive even more interest in these properties. 

In contrast to Smith Lake, the waterfront real estate market of Orange Beach, located in Baldwin County on Alabama's Gulf Coast, is divided into two parts: waterfront condos and waterfront homes.
Let's take a look at the waterfront condo market for starters.
This time last year, we had about a one-month supply of condos for sale in Orange Beach compared to the sales volume. Starting in March 2022, the months of inventory started moving upward with a peak around last August. Although inventory has come down since that time, so have sales. Based on 1st quarter sales of this year, the condo inventory in Orange Beach hovers around a six-month supply. 
We will know more based on April and May sales, which are usually higher. Based on current numbers, it appears that we are officially moving into a buyer's market. We think the Fed's decision to  move interest rates even higher is going to keep sales on the lower side for the foreseeable future. While we don't see pricing coming down significantly in the short term, we do predict buyers having more negotiating power over the coming months. 
As for waterfront and water access homes for sale in the Orange Beach area, inventory has stayed relatively consistent over the past 12 months. And while sales have fallen slightly in recent months, they haven't to the degree we are seeing in the condo market. 
Most buyers of waterfront homes are cash buyers, so we don't see interest rates quite affecting the detached housing market as much as the condo market. Only time will tell if the Fed trying to slow the economy will slow spending on luxury waterfront homes. 
Much like the condo market, inventory has been hovering around a six-month supply since March of last year. The next couple of months will give us a better indication of the movement in the waterfront home market along Alabama's coast. We find that most sellers of luxury waterfront homes are not in a "need to sell" situation, so they are less likely to make any significant reductions in price for the foreseeable future.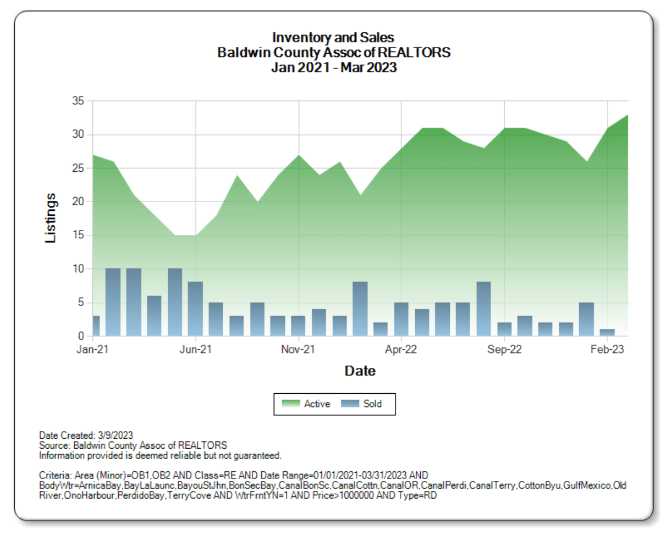 Buyers are expected to be more picky about the condition of these properties, which means bargain hunters should be able to pick up homes needing repairs and updating at somewhat better prices than in recent years. Coastal Alabama's white-sand beaches, endless recreational opportunities, and lower cost of living compared to similar markets, make it an excellent place for buyers wanting more bang for their buck to consider. For reference, the average price for a waterfront home in Baldwin County currently hovers around $1,650,000.
From lake to coast, Alabama waterfront real estate is continuing to become one of the nation's most attractive markets. This is thanks in large part to the state's low property taxes, its fast growing economy, its abundant nature and plentiful recreational opportunities, and its welcoming communities. 
Whether you are looking to buy or sell coastal or lakeside property in Alabama, we invite you to call on the experts at Lake & Coast Real Estate Co., the real estate company specializing in the diverse waterfront markets of our scenic state.