Orange Beach Waterfront Condo – 2023 Mid-Year Market Update
By Trent A Taylor of Lake & Coast Real Estate Co.
September 12, 2023

---
Based on emerging statistics, the condo market on the Alabama coast has moved back to a more balanced, pre-covid, condition. Second Quarter of this year's sales for Orange Beach Condos were down 26% from the same time last year. New listings hitting the market were down 18% for the same period from the previous year. If this trend continues the reduction in new listings hitting the market will help offset the increase in inventory from the reduction in sales volume.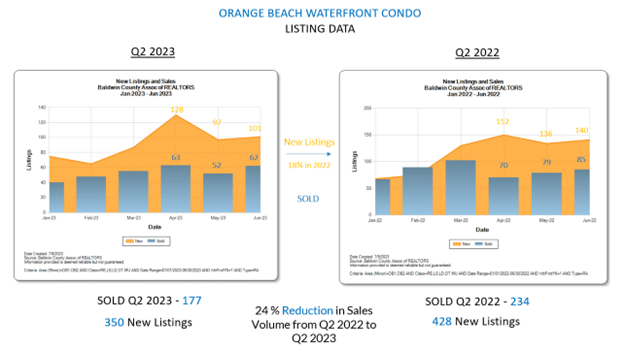 The national average for home inventory is currently just above a three-month supply. The Orange Beach condo market is almost double that at a 5.5 month supply. Typical indicators are once inventory exceeds a 6-7 month supply you start to see movement towards a buyers market. The Orange Beach condo market is not quite there at this time, but near future sales plus the combination of new listings hitting the market will dictate where the market is headed over the next several months.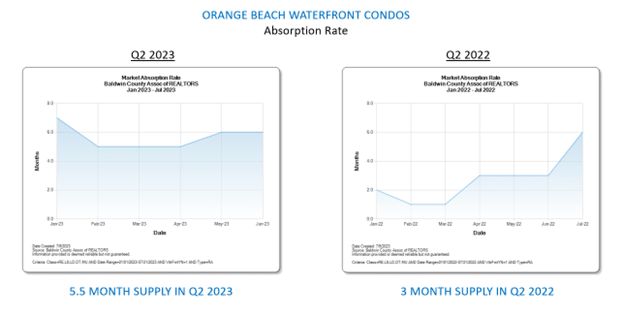 The average sales price for waterfront condos dropped by $116,000 when compared to 2nd quarter of 2022. This can be attributed in part to higher interest rates with buyers choosing to purchase at lower price points, due to the higher costs associated with financing.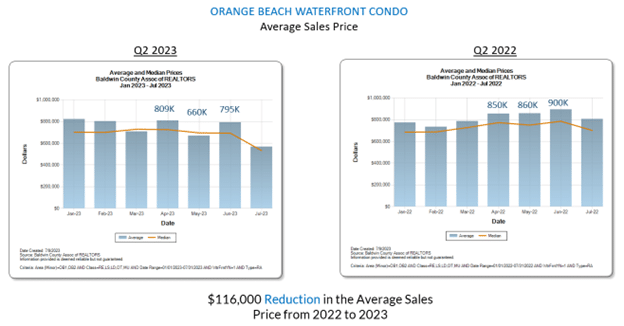 The sales price compared to the asking price of waterfront condos has stayed consistent at 3% below the list price. Sellers are still not negotiating much on price, but I believe those numbers will move in favor of the buyers as inventories continue to increase over the next several months.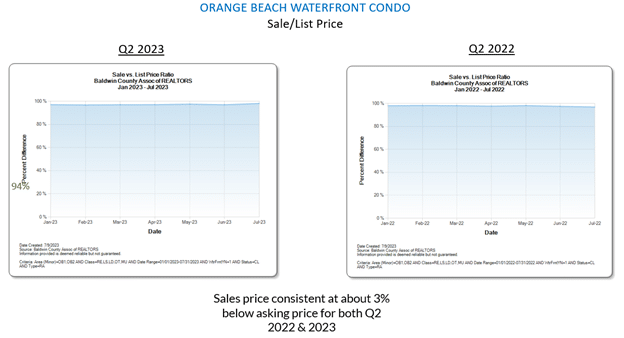 The average days on the market for waterfront condos is up significantly from a percentage stand point. However, the average days on the market for sold listings is still under 90 days. The average days on the market for all active waterfront condo listings is under 90 days as well.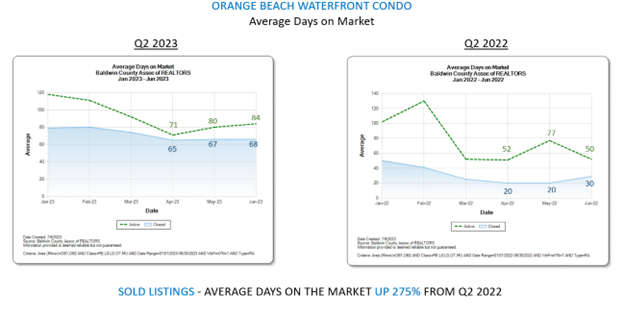 Based on these factors, I see a balanced market along the Alabama coast throughout the latter part of the summer and fall of 2023. Buyers are going to have more negotiating power as pricing will start to level out, bringing an end for the foreseeable future to record increases we have seen in recent years.
If inventory continues to increase and we surpass the 6-7 month threshold for several months, Sellers and agents will need to be more creative in marketing properties for sale in order to gain a competitive advantage. With our research skills, experience and history of commitment to waterfront investors, Lake & Coast will provide much-needed guidance as the market changes through the summer and fall months. We strive to ensure that our clients are aware of current market trends while providing as much information as possible concerning developing conditions in real estate, and how those changes can affect your needs.
We have successfully guided our clients through the challenges of waterfront properties by consistently staying atop factors that determine the best opportunities for selling or buying along the many waterfront markets in Alabama.
At Lake & Coast, we work closely with our clients using skilled marketing and research methods to ensure the best possible outcome for your investment. We have developed a reputation as experts in the field of waterfront real estate on this specific, highly demanding field.
Also be sure to visit us online at lakeandcoast.com.
Whether you're in the market to buy or sell waterfront property, Lake & Coast Real Estate Co. is here to help "Find Your Latitude." We invite you to contact our agents today!