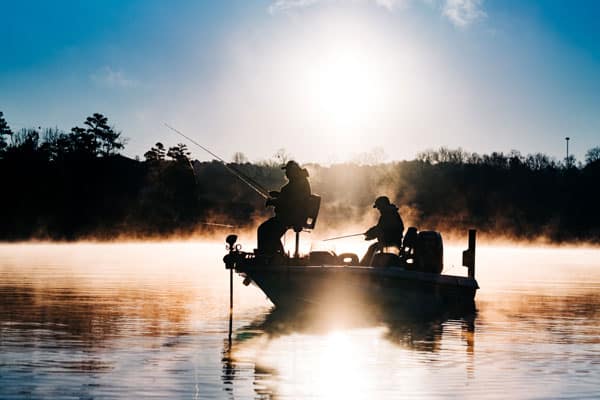 6am. The sun was starting to rise as we shoved off from the shore of Trident Marina
in our Bass boat. The fog was still thick and the tiny beams of spare slight began to illuminate the surface of the water. It was like being in a black and white photo that somebody had scribbled over with gold marker. As we increased our speed the wind began to numb our faces but I noticed everyone of us was smiling through it. We had planned to embark on this journey for weeks and prayed the weather would stay clear enough for us to go and it appeared our prayers were answered favorably. Who am I kidding. We are fisherman. We would go in the rain too. But the mix of rain and freezing temps that morning might have done us in.
Minutes later when we arrived at our spot, the digital fish finder indicated 100 feet of depth and about 20 fish moving under us. We changed our rigs to better accommodate Crappie since we were all hankering for some good pan fish. It had been a long winter with Covid and other distractions and it was so good to be back out there with the boys. Now I hear people go to Spas and get massages and listen to candle therapy music or whatever but the relaxing beauty of seeing the first line hit the water and the cascade of ripples in the water is the most soothing massage I have ever had. God's geometry and shapes, his bounty, his landscape, his lake. Can't get that indoors. Nope. Only out here.
Within minutes the fellas were pulling up keepers and it was evident we would all be eating good tonight. Nothing like catching your own meal either. Fresh not frozen and caught with your bare hands. Some say its Neanderthal or Primal and that its no longer necessary. Well I don't want to live in a world where the joys of fishing and getting your own food are no longer cool or acceptable. Feel free to go ahead and tweet that if you want. Cancel me. Whatever. I won't know it anyway because Im out here fishing and don't have a Twitter. The sky is now turning a vibrant blue as the fog burns away in to gold fumes. I can't be bothered right now. My phone is off. This is my safe place here on Smith Lake.
Over the years, I have watched the shoreline develop with more homes and seen some already replaced. I have seen more bass boats than ever and I have seen them get faster and faster every year too. But none of that bothers me because this Lake is so huge and there is room for everybody. Many humble homes have been replaced by McMansions and the floating docks keep getting fancier but one thing always stays the same…the fishing. It is why so many fisherman flock to Smith Lake. The beautiful clean water and extraordinary depth of along with the bottom terrain which used to be forests of trees—it is ideal for fish—therefore it is ideal for me. I plan to be here until my last breath and grandchildren do too.